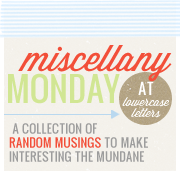 today i'm linking up with
carissa
. because she is family and i adore her. and because i like random things.
One.
I think I may be slightly obsessed with jimmy john's at the moment. All I want to eat is the beach club. In fact, I do believe I will have one for supper tonight.
via

Two.
When I googled to get my image for the beach club my picture from the avocado spread came up! OMG! I just got REALLY excited. It's not even that good of a picture. Okay, I'm still REALLY excited! ha
Three.
Bradley is in Charleston right now. I'm really jealous. I want to go home. South Carolina is just the better of the Carolinas. I'm going home soon for a good friend's baby shower and I just CAN'T wait.
via

Four.
I think smartwater is just better. We had this convo during our staff meeting today. My coworkers don't believe me. But, it is better. Afterall, it is made from the clouds :D I found it on sale for $1 per bottle at Harris Teeter and my insides did a little happy dance.
via

Five.
Friday night I'm going to a Toby Keith concert. I'm not a huge fan but I'm always up for a country concert. As long as he plays his oldies I'll be one happy girl! COME ON FRIDAY…I need a girls night! :)
that's all my miscellany for the day :) go visit
carissa
and link up!